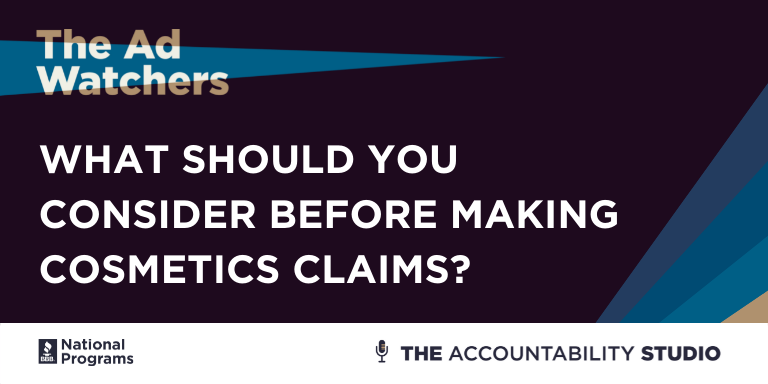 Ad Watchers' episode three of season two provides insights into what advertisers should consider before making cosmetic claims. Eric Unis, Senior Attorney at the National Advertising Division (NAD), is joined by colleague Annie Ugurlayan, NAD's Assistant Director, to walk listeners through the various cosmetic claims they encounter at NAD. Both experts provide an in-depth summary of what defines sufficient evidence and highlight emerging issues presented to the advertising self-regulatory program.

Annie begins with an overview of the advertising industry and claims history. She brings to light that the global cosmetic industry is an estimated $500 billion enterprise. Annie also underscores that in the early 2000s, an influx of claims directly correlated with increased cosmetics claims that compared products to cosmetics producers. Most claims offer improvements that combat the effects of aging and can also be quantified, such as fewer lines and wrinkles, firmer skins, and improved hydration. Many of these claims utilize before and after photos to depict their sworn results. Annie warns that photos may suggest a message that goes beyond what is shown in the image; therefore, objective forms of proof are required.
Eric posed a vital question for Annie to clarify. When specific results are promised, what type of evidence should advertisers rely on to support their claim? Annie advises listeners to keep one thing in mind. NAD always begins with the claim, first determining if a claim is objectively or subjectively provable. For promised results to be considered objective, claims need to be measurable and verified by actual tests, like a Corneometer® test which measures skin hydration. The preference is to conduct a clinical test that demonstrates benefits are achievable.
BASIS FOR COMPARISON

OBJECTIVE

SUBJECTIVE

Meaning

Objective refers to a neutral statement which is completely true, unbiased and balanced.

Subjective means something which does not show a clear picture or it is just a person's outlook

or

expression of opinion.

Based on

Facts and observations backed up by research. 

Assumptions, beliefs, opinions, impulsive emotionally-charged statements.

Truth

Provable

Relative to a person's limited knowledge about the topic.

Verification

Verified

Unverified, uninvestigated, unquestioned

One specification that advertisers should not trust is supplier data. A certificate from a supplier guaranteeing an ingredient is not sufficient proof. Annie shares an example, "A couple of years ago; we had a case at NAD related to CBD. The advertiser relied on their oil supplier's information about the amount of CBD in the product. However, they didn't test the finished product to determine if the amount of CBD was actually in the product. "And that touched on efficacy claims being made as well." Avoid relying on supplier data and always test the full and final formula. 
It is also essential to know the audience to whom the ad is directed. NAD dealt with a case for a moisturizing was that portrayed an African American woman in the advertisement. When the testing was reviewed, it was revealed that the manufacturer did not test women of all skin tones. There were six categories of skin tones, and only four of the lightest skin tones were tested. A test should include a representative sample of targeted consumers. 
Annie shares several common pitfalls in cosmetic advertising. Overstatement of a product's capabilities or a competitor's product's shortcoming is one of the biggest mistakes made. These types of promises many times do not align with the quality of evidence required to support the claim. Unreliable testing methodology is also another common misstep. "Consumer relevance is at the heart of almost every NAD case. So it's very important to show that whatever testing you rely on is consumer-relevant and meaningful," Anne advises. Both Eric and Annie share examples of this error in cases brought before them, referencing a case claiming a mascara product increases a certain amount of lash volume and another where the claim was a soap product leaving behind no soap scum. 
The duo wraps up with tips and takeaways to include:
In the beauty business, there are a lot of objective claims being made. However, these types of claims require a high level of supportive evidence. 

It's important to know your audience. The targeted consumer needs to be confident that the product has been tested with them in mind. There is substantial evidence to affirm it can specifically perform for them what is being promised.

Quality and Good Fit versus Quantity and Bad Fit: The quality of a study matters more than quantity. The study conducted may be impactful. However, the evidence that the results produce doesn't tie or connect to the claim promised.
Here are a few examples of NAD cosmetic claim cases:
Claims that Talyoni and Ecoco Cannabis Sativa Cosmetic and Wellness Products Contain CBD will be Discontinued

Don't forget to tune in next month for the next episode of Ad Watchers.
Visit to Learn More: NAD FAQs
Contact Information: nad@bbbnp.org
Listen to the complete episode here.